About Lubimova.com cake and cookie cutters and stencils
Our benefits
Cheap cookie cutters and stencils suitable for most cookies: cookie dough, fondant, soft cheese, some fruits, bread, jelly (excluding thick dough)
Large, fast growing collection with size range 5-15 см (2-6 inches) for most cutters
A lot of unusual designs
Strong but not thick cutting part with tip part
Eco friendly material
Custom sizes and cutters designs
About Cutters
Use: cookie dough, fondant, soft cheese, some fruits, bread, jelly
The height of the cutting part: 1/2 inch (13mm)
Size of the cutter is maximum value between two dimensions (left to right and up to down)
Material: PLA plastic, eco friendly material derived from renewable resources, such as corn starch, tapioca roots or sugarcane.
Technology used: Made with 3D printer.
Care: Hand wash only, no dishwasher, no direct sunlight, prolonged exposure to moisture or hot water, please
Please note, - color may be different
Stencils are made with Myalar-like film (PET) with density 125 mkm (5 mil)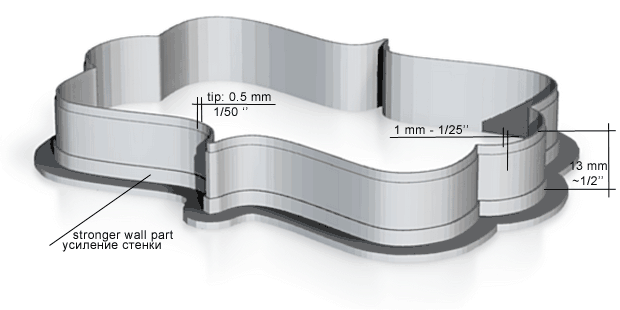 Policy and returns
Maximum common order weight is 5kG (11 lb), except wholesale shipments
PayPal payments (Online or PayPal transfer to aparusov@gmail.com)
Credit Card payments (via Yandex.Kassa)
Most orders are shipped within 3-5 business days from the date of ordering, but sometimes it may be longer due to the high workload
Delivery from Russia via Air using Post Services. Order over $300 may be delivered with EMS or other service.
Delivery cost from $5.8 to $6.9 (worldwide)
Free worldwide shipping for orders from $27
Tracking number is provided after shipment. Tracking of small packets is limited in some countries.
Delivery time may be from 10 days to 4 weeks (in rare cases longer)
You are responsible for all shipping charges and any import fees that may be charged by customs agents at the time of delivery
If the item arrive damaged it will be replaced free of charge. Because the cutters are made to order, we do not accept returns.
Your may also contact us for wholesale options.
Custom orders and rights
Custom cutters and stencils designs of different sizes can be ordered by e-mail shop@lubimova.com: please, send us pictures, your task description and after some clarification we will provide you with PayPay invoice
All custom designs are public by default, but we can do custom items with exclusive rights. You can add comment to the order to make some items exclusive. The price of exclusive design has some extra cost, - about $1 to $8 (depends on task). Also some designs we can't process as exclusive, when it is too typical and popular.
We have a lot of different designs visible in our shop. Many of them are provided by our customers as custom orders or found in the Web and we do not know if they have author with exclusive rights. If you have such rights on some designs, please, send us some kind of proof and we will remove it.
Seller information
Lubimova Anna
5-1-57, Planernaya st., Moscow, Russia
info@lubimova.com
We are on social networks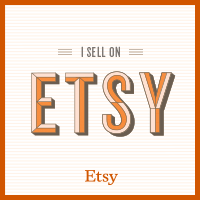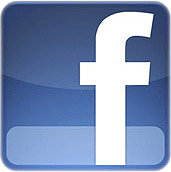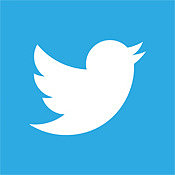 About me (Lubimova Ann)
Hello friends,
my name is Ann, I'm a cookie artist from Russia.
Russian cookies, called «Prianiki» or «Kozuli» are traditional Russian sweet treats.
I set a goal to participate in the development of this handicraft on a new level.
This includes high quality cookie decoration using modern tools and food colors, as well as my cookie classes in Moscow.
I set out to popularize this craft not only in Russia but also all of the former USSR with my own manufacture of cookie cutters using 3D Print Technology.
This my shop is already working for russian customers more then year (from end of 2013), and i have decided to offer my products to worldwide cookie masters.
Thank you for visiting my shop!