Christmas and New Year cookie cutters and stencils NEW collection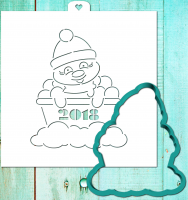 Preparing for the New Year and Christmas is rapidly gaining momentum! According to numerous requests of our clients designers of lubimova.com began preparing products for the New Year already in June.
There are only six months :) and we will decorate for Christmas our home, holiday table, make presents to family, relatives, friends, colleagues... excellent Christmas gifts - gingerbread! About all this, you, our dear customers like to worry in advance. And, so, previous few weeks we painted, cut, thought, deliberated, argued and rejoiced, what a wonderful new collection of the 2018 season we get....
Dear cooke masters, we offer you to look at our new stencils and cookie cutters collection, then you will understand our joy. Well, we will not tire you and show the most loved by us. And you can also contact us by e-mail info@lubimova.com or on the Facebook page LubimovaCookieCutters and write us what you want to see in our shop for the new season.
You may, also, visit the New Arrivals Shop page